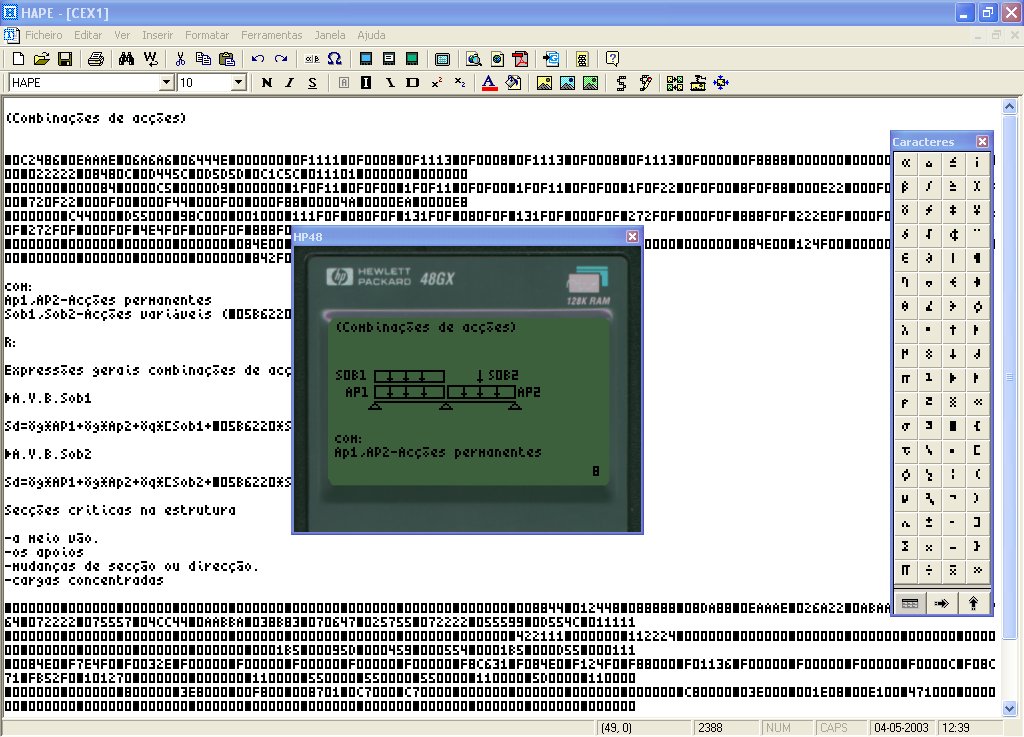 An advanced HP48 editor for the PC.
HAPE – HP48 ADISP PC Editor is a powerful word processor directed at the creation of graphically advanced documents for any Hewlett-Packard calculator of the HP48 family, including the HP 48S, HP 48SX, HP 48G, HP 48GX, and HP 48G+.
The documents are compiled to be compatible with the popular 'ADISP' library, developed by Jean-Francois Morreeuw and can be compressed, using an in-editor tool and the 'BZ' library, developed by Ricardo Blasco Serrano, saving precious memory space in your calculator.
HAPE includes a unique set of features that makes it the most versatile and powerful PC editor for HP48 calculator. HP48 ADISP PC Editor allows you to:
Two different modes of edition: graphical (for beginners) or textual (for advanced users);
Preview your documents, in an HP48 simulated environment, before sending them to your calculator;
Insert JPG, BMP and GIF images inline in your texts, just like in a Word document;
Easily format your texts using bold, italic, underline, inverse, left italic, double, exponent and index styles;
Create and use symbols and characters that don't exist by default in your HP48 using a symbol editor (already includes the greek alphabet);
Open converted Windows text files in your calculator;
Use special image formats in your documents, including GROB (GRB, GRO) and HAPE (HAI);
Open huge and graphically rich documents in you calculator by using the included  in-editor compression tool, together with the 'BZ' library;
Compress and convert between different HP48 image formats;
Build and preview ADISP menus and shortcuts in your PC.
Export documents to HTML, PDF and RTF;
HAPE is compatible with Microsoft Windows 10, Microsoft Windows 8.1, Microsoft Windows 7, Microsoft Windows XP and Microsoft Windows 98.
To license HAPE and have access to all the features and tools, please click the button bellow.

Bellow you can find and download functional but non activated versions of HAPE, with limited features, in English and Portuguese.


HAPE 2004 v2.6 (English)
[SHA-256: B6D20EE62BCC8FB738B64EEAD51BF89876F88CE79DDA7B0C6A85D1DBD188C6F2]




HAPE 2004 v2.6 (Português)
[SHA-256: A71754802D7717E478FEA1DB4E9959CEEF038519DD3A2078E304D3A4255EBC71]
Disclaimer: This website or its author is not, in any way, affiliated, funded, or in any way associated with the companies Microsoft and Hewlett-Packard (HP) nor with the following registered trademarks, software and models: Microsoft Windows 10, Microsoft Windows 8.1, Microsoft Windows 7, Microsoft Windows XP, Microsoft Windows 98, HP 48S, HP 48SX, HP 48G, HP 48GX, HP 48G+, ADISP or BZ.